Snorkelling at the Great Barrier Reef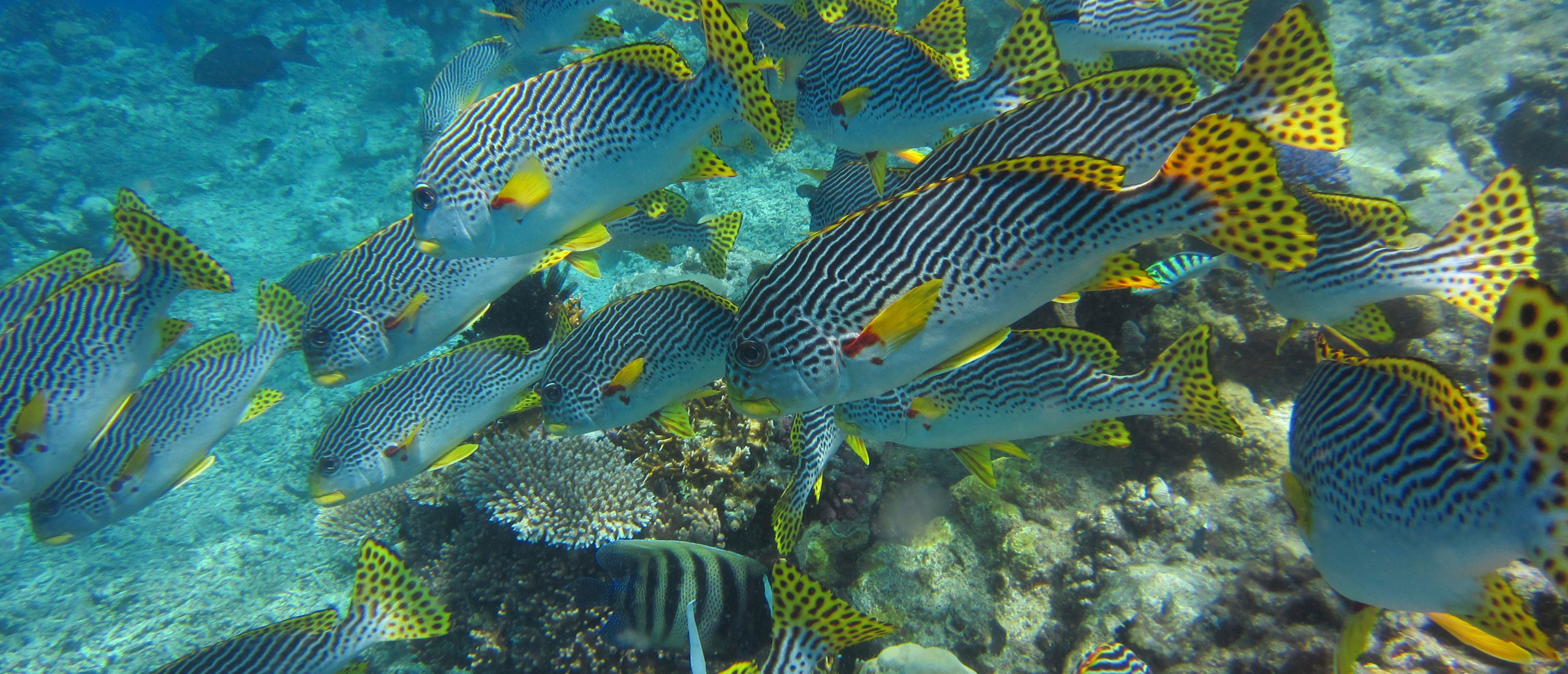 Snorkelling is one of the easiest and most satisfying activities to participate in for people of all ages with little skill or daring required in order to come away with some amazing visuals and great memories of your time spent in the Great Barrier Reef. A common questions we get is where is the best place to snorkel or dive. It is a valid question given that the reef stretches over 2000 km along the Queensland coast and there are many access points. We have done the research and have spoken to tour operators and locals in the region to compile a list of the best snorkel sites for you.
North Queensland – Cairns and Port Douglas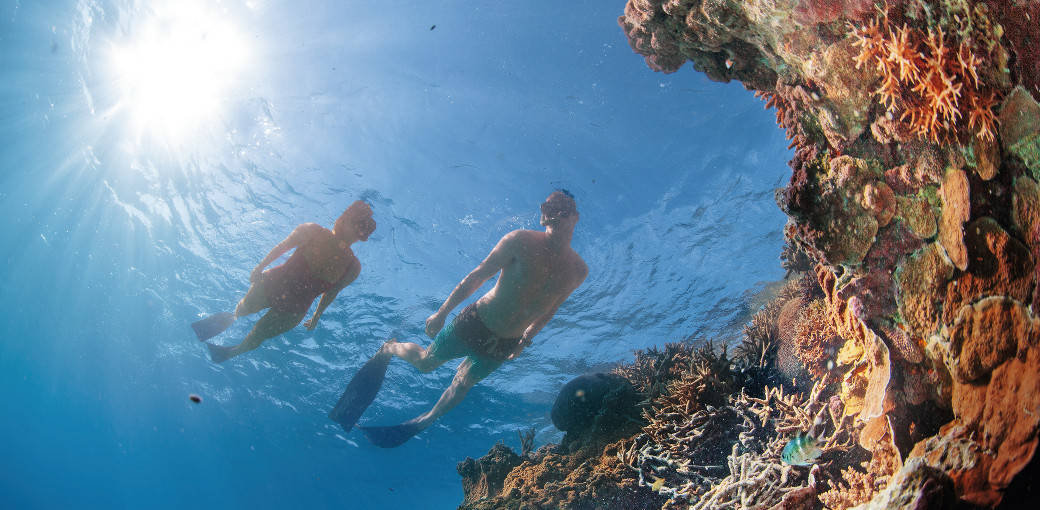 Low Isles
The Low Isles are a perfect choice for beginners, families or for those who simply don't wan to deal with crowds. These quiet, sheltered waters are home to one of the most spectacular coral cays with a diverse range of hard and soft corals and turtles and fish. You won't be compromising on quality by choosing a tour operator that goes to the Low Isles over another site because of the high underwater visibility and abundance of marine life here.To access the Low Isles you can join tour operators such as Reef Sprinter, Wave Dancer and Calypso from Port Douglas.
Fitzroy Island
In just 45 minutes on a ferry transfer from Cairns you can find your own slice of paradise. Snorkelling and scuba diving can be done straight off the beach due to the fringing reef and beautiful hard coral formations found on the Great Barrier Reef. "An abundance of marine life including our resident turtles, reef sharks, schools of barracudas and of course 'Nemo' call Fitzroy Island home. If as a day visitor or a resort guest the island will not disappoint." Anja- Fitzroy Island Resort
Green Island
Green Island is a beautiful coral cay with a unique island rainforest and is surrounded by white sandy beaches and coral reefs. "Big Cat Green Island Reef Cruises offer you the choice of a full day or half day cruise so you can snorkel, dive and swim in the clear island waters. As snorkelling is from the beach, it is a very popular option for families and those who aren't confident swimmers who can wade in the shallows" Chris Koscielny- Big Cat Green Island Reef Cruises
Agincourt Reef
This reef site is best suited to more experienced snorkelers and divers. The Agincourt Reef is located further offshore, but it is well worth the journey because of the sheer number of snorkel and dive sites that keeps everyone happy. The clear outer reef waters and coral are some of the most pristine sections of the reef. Many of the reef sites are located close to each other so it is likely that if you visit the reef on a tour you will get the chance to snorkel at two or more reef sites in one day. For beginners and non-swimmers we suggest joining a tour that travels to the Outer Great Barrier Reef platform which welcomes hundreds of visitors and has modern facilities such as showers, food and change rooms. Beginners can stick to the areas closest to the pontoon and non-swimmers can take part in the glass bottom boat and semi- submersible tours or underwater viewing chamber while staying dry. Quicksilver, Poseidon and Calypso are among some of the tour operators that travel out to the Agincourt Reef.
Townsville-Magnetic Island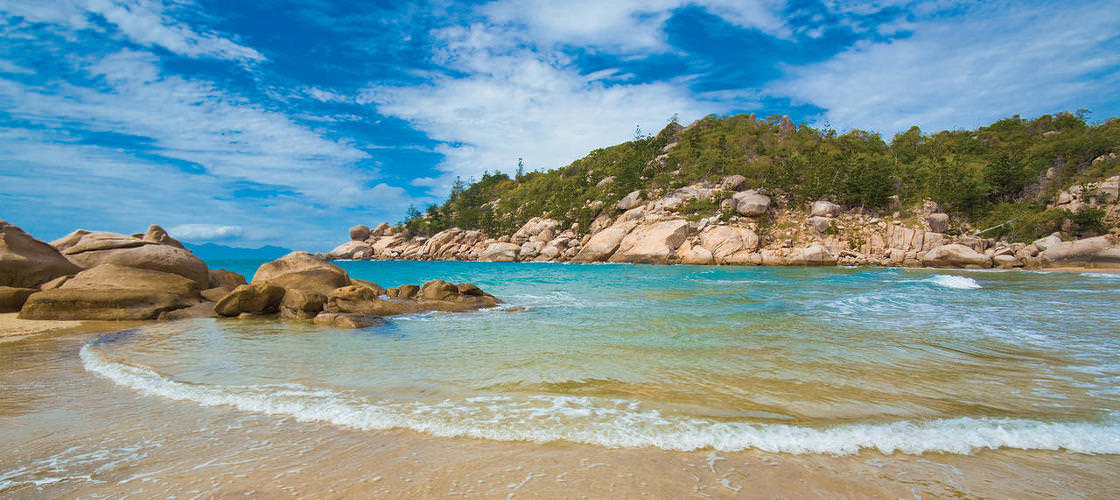 This site comes highly recommended as one of the best snorkel spots in Queensland. Geoffrey Bay is located off Magnetic Island near Townsville. A short 25 minute ferry join will transport you to an underwater playground that can be reached swimming off the beach. The snorkel trail offers a good array of tropical fish and turtles. Stronger swimmers can venture further out to the WWII aeroplane propeller and engine block submerged amongst the reef. This is a budget friendly activity that can be done in a day visit to Magnetic Island or on a longer stay due to numerous accommodation offerings to suit any budget on the island.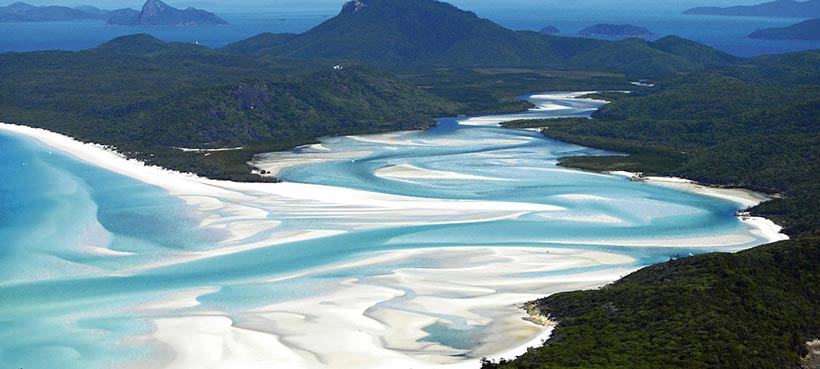 Hardy Reef
Experience the wonders of the the 74 islands in the Whitsundays. Cruise Whitsundays is the only tour operator in the Whitsundays to have two pontoons on the outer reef conveniently located 40 nautical miles from Airlie Beach. 'Reefworld' and 'Heart' pontoon are located at the Hardy Reef Lagoon and are well known as the best reef for snorkelling and diving in the Whitsundays.
"This is a bucket list experience. Once you arrive you'll explore the underwater wonderland and be in awe of the magnificent corals and abundance of fish and marine life". Nick Hortle- Cruise Whitsundays
The convenience of joining a tour that docks at the outer reef pontoons is that it allows guests to get out and stretch their legs and find an area to relax under the sun. There are also undercover seating, sun decks, change rooms and freshwater showers. The pontoons boasts an observatory chamber, semi-submersible submarines located adjacent to coral walls so that everyone can experience the reef whether you are a confident swimmer or not.
To fully immerse yourself in the Great Barrier Reef experience you can snorkel, swim or take a scuba dive over Hardy Lagoon. The benefit of snorkelling is that very little experience is required and staff are available to provide instruction before you enter the water. The Whitsundays is a great place to learn how to dive and on a cruise you can take your first introductory scuba dive with the reassurance that staff are close by keeping on eye on you. Lastly, scenic flights over the iconic 'Heart Reef' lagoon are available giving you a different perspective of the vast size of the Great Barrier Reef.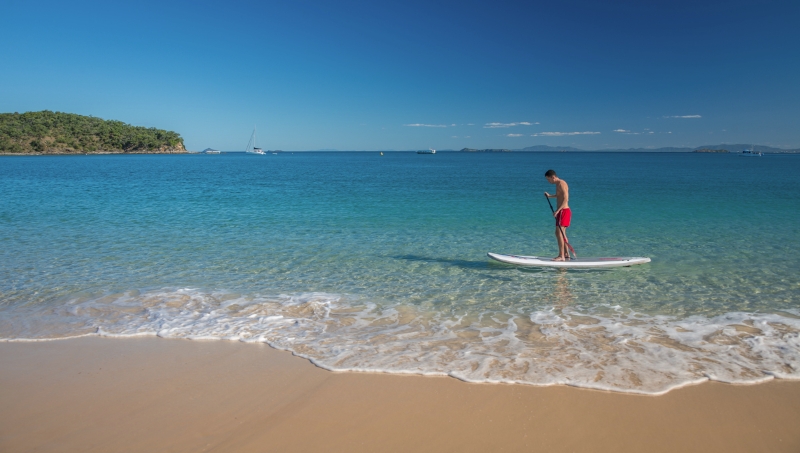 Great Keppel Island
Great Keppel Island is a short 30 minute ferry ride from Yeppoon on the Central Queensland coast. This tropical island is full of old school charm here and is perfect for the outdoor lovers and snorkelers. There are no cars, shops or high rise hotels just pristine beaches and cute beach shacks step away from the ocean.
"Shelving Beach, Monkey Beach and Big Peninsula is where we have found to be the best place to snorkel. The coral is alive and re-generating and many tropical fish are seen here." – Kylie, Freedom Fast Cat
The best snorkel spot in the Capricorn Coast is Shelving Beach off Great Keppel Island. This site is covered in coral and brightly coloured Fish, Turtles and Starfish. Visit this location in a day with Freedom Fast Cats day cruises or ferry transfers. If you can't tear yourself away stay a little longer in the beach cabins and bungalows that are available on the island.
Southern Great Barrier Reef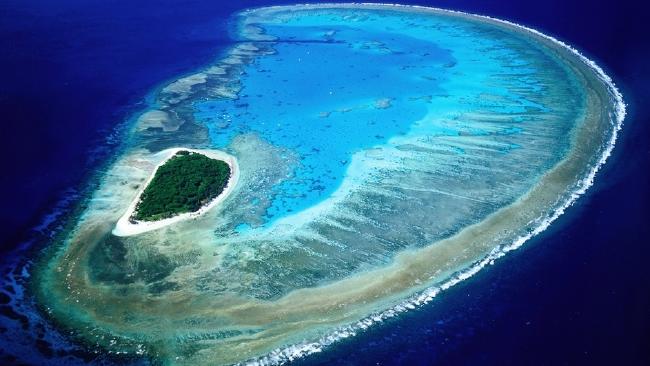 Lady Elliot Island
Lady Elliot Island is the most southerly coral cay in the Great Barrier Reef has a great range of dive and snorkel sites most of which are available off the beach. The island is home to a huge population of turtles so it is almost guaranteed that you will meet these gentle giants on your snorkel adventure. If you visit between November to April you will also witness turtle nesting and hatchings which is an experience not be missed. Due to its remote location offshore, the island can only be reached by private charter flights which operate daily and visitor numbers are restricted making this experience exclusive and the reef pristine and protected.
Lady Musgrave Island
Second to Lady Elliot Island is Lady Musgrave Island which offers a completely different snorkelling experience to visitors. This island is accessible by day tour or private boat and with no island accommodation to speak of, this island will give you the true tropical island castaway experience camping in the middle of the Great Barrier Reef under the stars.
The island is surrounded by a protected lagoon with a number of world class snorkel and dive sites such as Manta Ray and Entrance Bommies, Napoleon's Wall and the Drop off to name a few. The Southern Great Barrier Reef is a great option for visitors who fly into Brisbane and are short on time but still wish to see the reef. It is also suitable stopover for guests who are completing the great east coast road trip up to Far North Queensland.