A visit to the reef doesn't need to break the budget with many wallet friendly alternatives available to you. The advantage of the vast size of the Great Barrier Reef is that there are many access points to the reef to help you tailor a holiday to your budget without comprising on the activities.
An easy way to automatically reduce the price of your holiday is to stay in accommodation on the mainland instead of island resorts where you are limited to what accommodation and dining options you have. Whilst it is great to stay at a tropical island you will have to pay for that luxury. By staying in a gateway location such as Cairns, Airlie Beach or Townsville you can choose from motels, bed and breakfasts, backpackers, caravan and campsite or budget motels and hotels. Less money spent on accommodation means more money to spend on the activities and tours to the reef.
If you still want to have that tropical island experience but are willing to stretch the budget a little but not 'rough it' and camp then there are a few islands that are more budget conscious.
Fitzroy Island is a 45 minute ferry from Cairns and is a relatively unspoilt island with little development. The resort on the island has a good selection of accommodation ranging from ensuited bungalows to resort studios, ocean suites and a beach house that can be rented out. The resort has a swim up pool bar, restaurant, convenience store and water sports centre. The stunning beaches, coral reefs, bush walks and water activities will be enough to keep any visitor happy for a few days. This island tends to be less crowded than its neighbour, Green Island, however, the word is starting to get out and its popularity is growing.  Room prices begin from $150 per night. Fitzroy Island is a great option as a day trip as well if you choose to stay in Cairns instead.
Cairns is the central hub of the Great Barrier Reef and the first place many people turn to for accommodation and tours when they visit the region. The city also has an international airport that welcomes international visitors from countries all over the globe. The benefit of a holiday in Cairns is the huge number of hotels and tour operators that help to keep prices competitive and give visitors a choice.
Choose from a number of well known hotel chains, independent hotels and motels or backpackers and caravan parks to help keep the cost of travelling down. There are also a number of affordable and value for money day tours to get you out on the reef. You can view and book these tour operators through out website by visiting our Reef Tours page.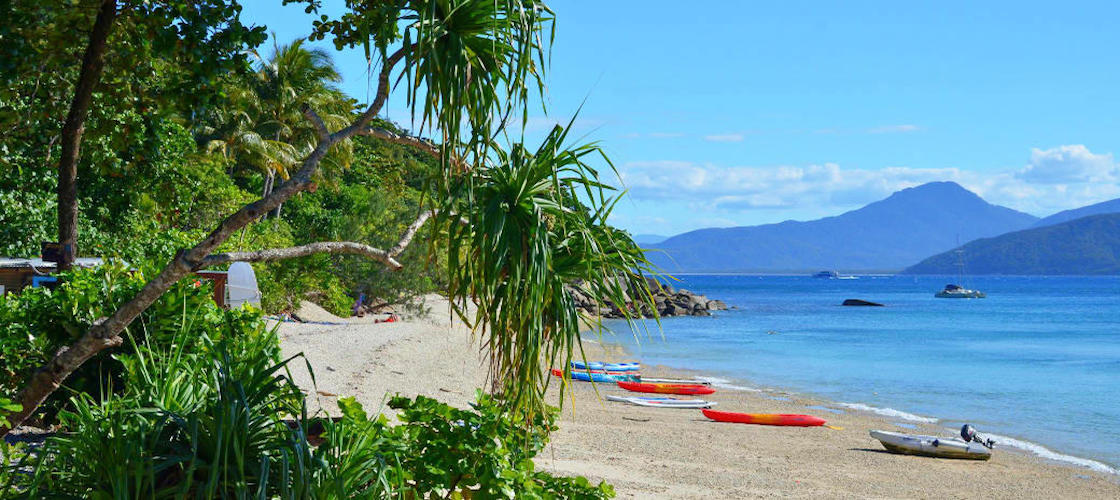 Another budget alternative to discover the Great Barrier Reef is a stay at Magnetic Island in North Queensland. The island is conveniently located just 20 minutes from Townsville via regular ferry services.
This unique island in the Great Barrier Reef is very different to any other island as it is home to some 2000 local residents and a haven for tourists with the coral reef right at their doorstep. Magnetic Island offers a variety of activities and experiences to suit the nature lover and also those seeking a tropical island holiday experience.
Two thirds of the island is a designated national park with over 25 kilometres of walking tracks through eucalypt forest that sustain a healthy Koala population. Rock wallabies and a number of bird life can be found on the island, not to mention the number of snorkel trails where you will find Giant Clams, turtles and a variety of tropical fish.
The island is popular with visitors because it offers a variety of budget accommodation options that differentiates itself from other islands that only offer a higher end luxury resort experience. Here on Magnetic Island, you can find a bed in a hostel, motel, hotel, resort or bed and breakfast for a more personal experience. In fact, it is the only island in the Great Barrier Reef to have a backpacker hostel so it is not surprising that the island tends to attract a younger crowd but it is certainly not a party island.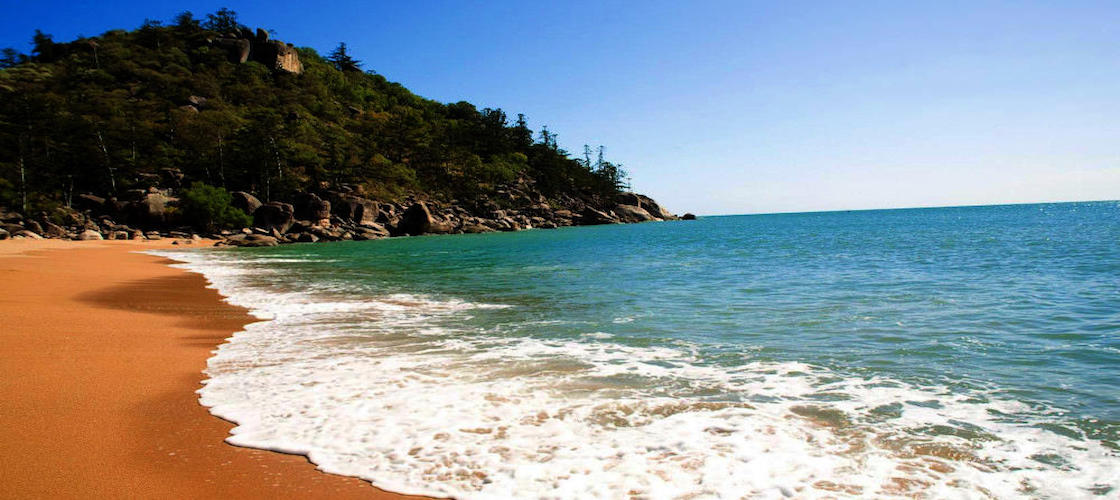 The Whitsundays and budget don't generally go in the same sentence because it is known as a luxury resort destination however there are ways that you can save some money. Long Island is the closest island to Airlie Beach and is one of the only resorts that offers self-catering accommodation in private houses, villas and ocean front bungalows. The Palm Bay Resort does not have a restaurant so all guests need to bring their own food and drink. The location of the island is convenient for you to head to Airlie Beach, island hop or join a day tour.
As mentioned earlier, accommodation on the mainland tends to be cheaper so Airlie Beach would be the best gateway location to join tours to the various islands of the reef. Many backpackers frequent Airlie Beach but there are also budget hotels, resorts and caravan parks available. The sheer range of choice means you- the visitor, are in control of your budget and where you want to stay. With that being said, you cannot get five star luxury if you only want to pay backpacker prices so do keep your expectations in check. Beautiful, comfortable and budget friendly accomodation in The Whitsundays exists, you may just have to book early to grab a bargain. 
Lastly, another great way to save on money is to travel in off peak seasons. There is no disadvantage in choosing this option because the tropical climate guarantees that day time temperatures rarely dip below 24 degrees year round. However, please note that the wet season does begin from November to April so plan accordingly.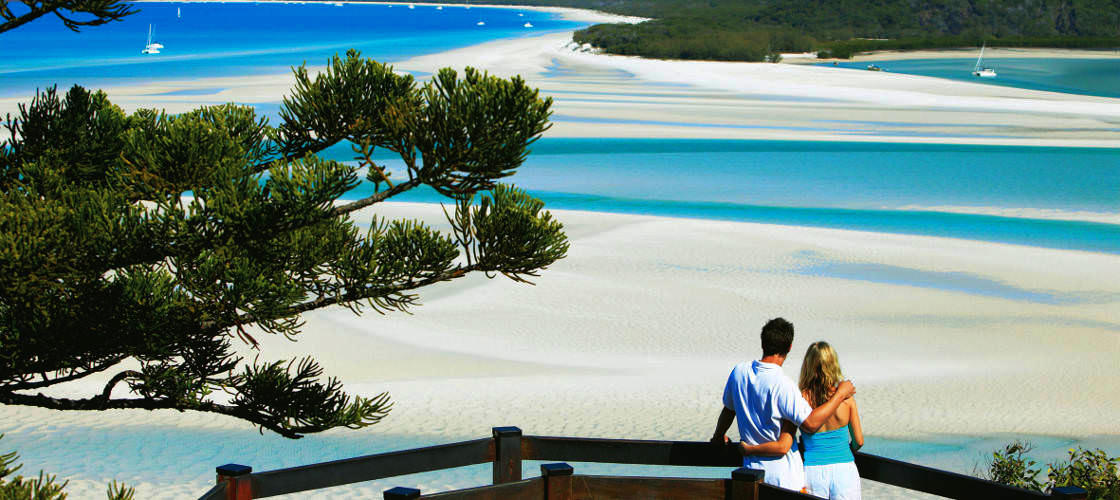 The Great Barrier Reef is one of the greatest natural wonders of the world and often the coral reefs are on the forefront of people's mind when they think of the reef. Many people are surprised to learn that a vast number of the islands within the Great Barrier Reef Marine Park are designated national parks with little or no development or island resorts and remain open to the public free of charge.
These islands offer a totally different Great Barrier Reef experience to visitors who can experience the great outdoors as well as swim in the surrounding coral reefs whether that be on a day visit or overnight in designated camp sites. Permits are required to stay on the islands but cost as little as $6.50 per person per night.
These islands offer a unique opportunity to experience a quiet and secluded island getaway. How many of us have dreamed of having an island to ourselves? Well, if you are prepared to camp then this could become a reality. To have a beach or campsite to yourself is one of those 'priceless' and special moments in your life. It does require a little bit more effort, research and organisation but it could be worth it to have a slice of paradise for a short amount of time.
The Whitsundays has a number of islands that you can camp on with ferry transfer companies offering services to and from these islands as well as the hire of equipment should you require it. Dunk Island, near Mission Beach is another popular alternative with transfers available. Lady Musgrave Island in the Southern Great Barrier Reef is another island that campers may wish to add to their bucket list with the once in a lifetime experience to camp on a coral cay in the middle of the reef. This remote island is not for the faint hearted and you do need to be completely self-sufficient but it is an amazing experience for those who relish being in the outdoors amongst nature and wildlife.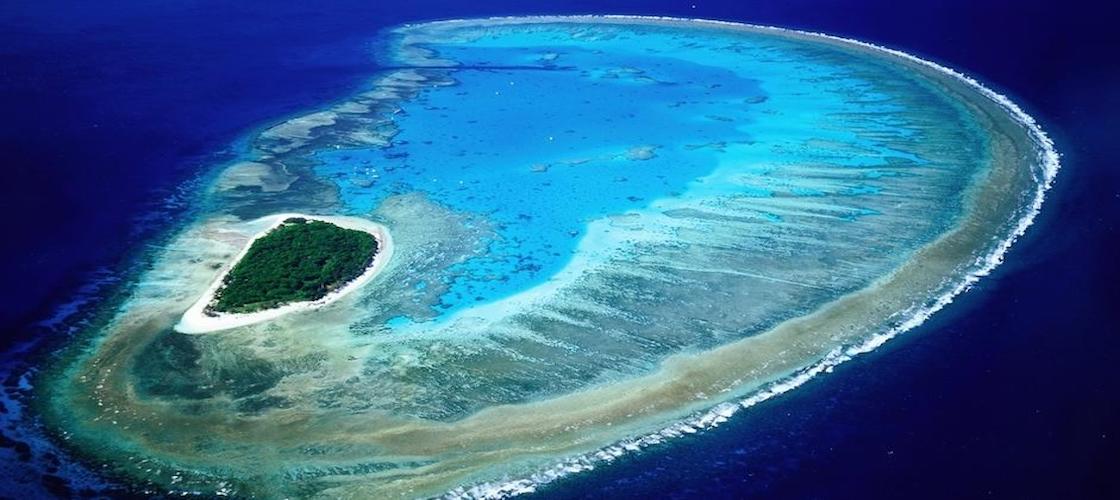 A visit to the Great Barrier Reef can be a very affordable option that suits a variety of demographics whether you are a backpacker, a solo traveller or a family. With careful research and preparation, you can plan a jam packed itinerary with trips to coral reefs, islands or even national parks and rainforests. This is one destination that you should add to your bucket list of places to visit. There is only one Great Barrier Reef in the world and this is one natural wonder that you must simply see for yourself.