By Air
Cairns is often referred to as the heart of the reef as it welcomes international and domestic visitors to its city through its international airport. For many, this is the easiest way to reach the Great Barrier Reef and also combine a visit the world heritage listed Daintree Rainforest. Currently, there are direct international flights from New Zealand, Japan, Hong Kong, Singapore, The Philippines and Papua New Guinea. Those travelling from other destinations will be taken to one of the Australian airport hubs such as Melbourne, Brisbane or Sydney where you will catch a domestic flight into Cairns.
By Road
The 1700 kilometre Bruce Highway (M1) connects Brisbane to coastal populations in North Queensland to access the Great Barrier Reef by road. The trip is long and it is recommend that you do it over a period of two to three weeks. Schedule regular stops to give yourself a break but also see what Australia has to offer. If you only have a week in Queensland then forget it and head to the nearest airport for a flight. You will only spend the entire holiday driving and missing out on what you came to Queensland to see.
For those who are lucky enough to have a few weeks up their sleeve or are free to roam the country as you please this is one of the best road trips in Australia. Obviously the advantage of having your own vehicle is that you can head off the beaten track and explore small towns, national parks and nature trails or the outback farms and museums on the way to the Great Barrier Reef. Below is example of driving distances.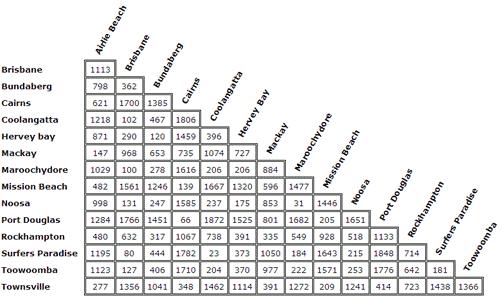 By Sea
The cruise industry has experienced extraordinary growth in recent years and Australian cruise terminals are welcoming cruise liners in record numbers. The Cairns Cruise Terminal welcomes Royal Caribbean Cruise, Celebrity Cruises, P & O, Princess Cruises and many more. The cruise terminal is also very conveniently located in the centre of the city just a few minutes walk from hotels and the Reef Fleet Terminal where many day cruises and tours depart for the day.
By Rail
Queensland Rail Travel operates the 'Spirit of Queensland' train five times a week from Brisbane to Cairns. Travelling by rail is a great way to experience the different Australian landscapes and is among one of the best railway journeys in the country. Don't be confused, this is NOT a high-speed railway journey nor is it cheap but it is a leisurely way to tour through the countryside and should be treated as an experience as opposed to a fast mode of transport.
The journey takes approximately 24 hours from Brisbane through to Cairns and travels through other Great Barrier Reef entry points such as Bundaberg, Proserpine and Townsville before arriving in Cairns. The Spirit of Queensland train offers a premium economy rail bed service similar to what you would see on international planes. You will also be served chef prepared meals at your seat whilst you are enjoying the in seat entertainment or the views from your window. Staff provide a turn down service to prepare your bed and an amenities pack is supplied for you. The train does have a club car for you to get up and socialise as well as toilet and shower facilities.
By Bus
Long distance coaches such as Greyhound Bus and Premier Buses travel up and down the east coast to the Great Barrier Reef. The benefit of bus travel is that they often stop right in the centre of town as opposed to railway stations that stop inland and require bus transfers into the coastal towns. Bus companies also tend to offer hop on hop off bus passes that offer you flexible travel across their network over a period of days for a set price. This is very popular option with backpackers who want to be able to pick and choose where they go to and for how long. The only negative is the time it takes to travel given the size of the country and how long it takes to travel from one major regional centre to another. It would also pay to have a fair idea of the places you wish to go to as single tickets or flights may end up being cheaper than a hop on, hop off bus pass.