Haggerstone Island
An exclusive resort on the outer Great Barrier Reef that will give you the ultimate castaway tropical experience.
Haggerstone Island
is a remote tropical island located off the coast of Cairns that should be included on your bucket list. This island experience is exclusive, personalised, unique and well worth the scenic journey leaving you with unforgettable memories and post card perfect photographs.
Haggerstone Island is an exclusive eco resort located 600km north of Cairns. Its remote location is part of the charm promising exclusivity and privacy to its guests.
Managed by caretakers Roy & Anna Turner for 30 years this idyllic island has something to offer everyone. The island is home to an abundance of marine life making it a perfect playground all year round for snorkelers and divers. The island is also a favourite spot for fisherman who can bait off the beach, spear fish or make use of the island jet boat for adventures out on the reef.
There are many activities for guests to take part in whilst you are visiting the island. Snorkelling and skin diving are available all year round due to warm tropical temperatures and mild winters. You won't have to fight to find a spot to rest on the many pristine beaches that are available to you. There are also two reef lagoons for you to snorkel and dive to find 'Nemo'.
The island jet boat is also available to you daily for journeys out on the water for fishing, snorkelling or diving. On land there are many walks for you to take to unwind and relax amongst nature or perhaps do some bird watching. As guests on the island you can also request access to jet skiing and helicopter flights over the world heritage rainforest, waterfalls and outer reef.
Island accommodation consists of several exotic timber beach huts and a beach house that are cleverly disguised and camouflaged into the island's natural surroundings. The beach huts are made of natural materials such as driftwood, New Guinea timber, thatched roofs and decking with views overlooking the reef lagoons.
The main house in the resort is a beautiful common area where breakfast and dinner is served and lunch is normally out on the boat. Due to the island's remote location you will discover that the fresh produce comes from the island garden and the seafood is freshly caught from the sea. Haggerstone Island is not an island destination but an island experience that will appeal to nature lovers. The hardest decision you will make is how you want to spend your day as all meals and activities are included in your accommodation.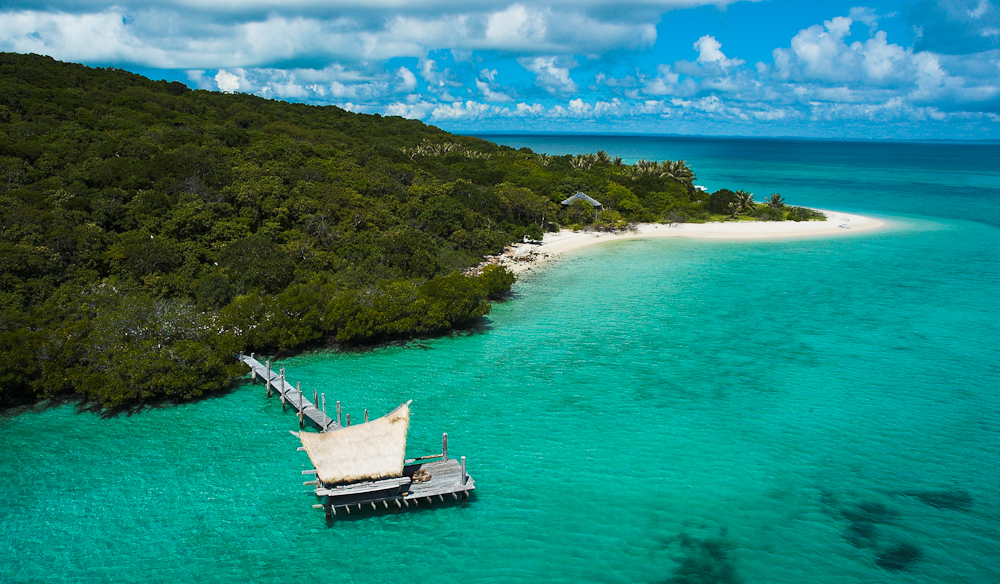 The island can accommodate up to 10 guests at any time making this truly an exclusive and unforgettable holiday experience. The beach huts can accommodate four guests or 1 family housed in timber huts with thatched roofs and contain a private toilet and shower. The beach huts are rustic and open plan style overlooking the reef, ocean or the gardens. The brand new beach house 'Mawu' is slightly more luxurious than the beach huts and offers 2 queen bedrooms and a loft style third bedroom with single bedding. The self-contained villa overlooks the lagoon and the open plan kitchen and dining area with a stone fire place is the highlight of the house. These accommodations can be booked separately or as part of the complete island experience for a small group.
Haggerstone Island is located on the outer Great Barrier Reef but is worth the effort to travel here. All guests must arrive at Cairns first and then take a private charter flight to the Haggerstone airstrip. From here you will then board the island jet boat to be transferred to the island. These flights are scheduled in the mornings so you may be required to stay in Cairns the night before your journey to the island. The chartered scenic flight is two hours in duration and the scenic views from above are worth every dollar giving you access to lush rainforest and colourful reefs below. Chartered flights can be booked at the same time as your accommodation. Please note that Haggerstone Island is not licenced so alcohol must also be ordered at time of booking.
Haggerstone Island is located in tropical North Queensland and subject to wet and cyclonic seasons from December through to March every year. You can expect high levels of humidity and rainfall in February. In summer the average temperatures are 30 degrees and in winter 18 degrees. The best time to visit the island would be from April through to November outside of the wet season.
Haggerstone Island in Pictures