The hilly
Fitzroy Island
is often grouped in with nearby Green Island as one of the two viable island day trip destinations from Cairns. Fitzroy Island is a delightful and quieter alternative to Green Island. You won't regret visiting as the island's natural beauty is stunning and unforgettable. There are many activities to occupy your time whether you are visiting for the day or staying longer at the resort.
The wondrous Fitzroy Island is located 25km east off Cairns, featuring beautiful coral beaches, open woodlands, tall coconut trees, sturdy mangroves, granite outcrops, lush pristine rain forest, breathtaking natural scenery and diverse landscapes.
Fitzroy Island boasts unspoiled natural beauty, pristine surroundings and safe sheltered waters, which promise to make your holidays to Australia more enjoyable and memorable.
Merely taking a short walk along one of Fitzroy Island's spotless beaches will quickly allow yourself to be mesmerised by the iconic coral beaches on the island. Picture yourself on a pristine white sandy beach, with beautiful coconut trees flanking the spectacular coastline or just take a stroll along the coast to reach the stunning Nude Beach to leave yourself bewitched by the unspoilt beauty.
When you are in Fitzroy Island, you can't miss the chance to explore the Great Barrier Reef bordering the island, where you are free to explore the underwater marine life, beautiful coral reef and underwater creatures, including a wide variety of tropical fish, Nemo – the clown fish and green sea turtles.
You can also find an abundance of bird life in this picturesque island, which is a must-see sight. If you want to discover an unspoilt tropical paradise, with plenty of interesting activities to do, then plan a day tour to Fitzroy Island. Whether you are looking to relax or seek adventure and thrill, this beautiful island, with picturesque natural surroundings, is ideal for a romantic holiday, a family retreat or a group vacation.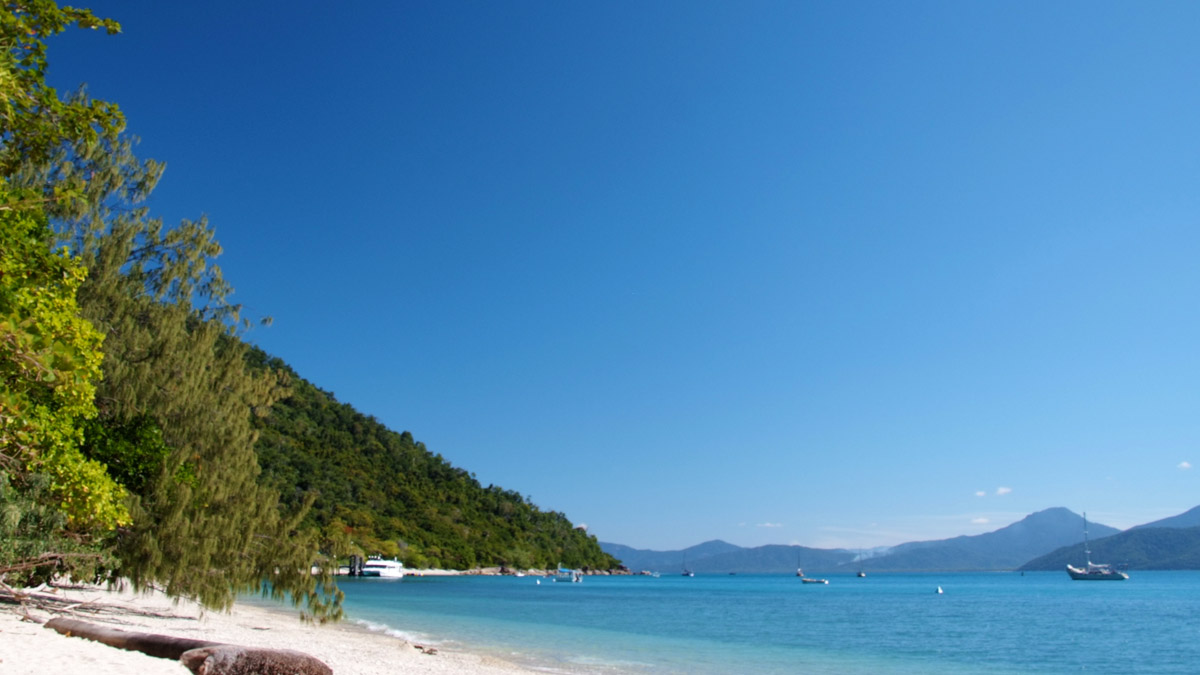 Some of the popular activities you can enjoy include snorkelling, diving, swimming, boating, hiking trails, fishing, sea kayaking, stand up paddle boarding, guided walks, whale watching, scuba diving and more. You can also take a glass bottom boat to explore the underwater marine life, including spectacular coral reef villages, which is sure to leave an impression on your mind for years to come!
Stroll through the rainforest walking trails to explore the rich flora and fauna and enjoy panoramic views of the island and its surrounding reefs. You can also explore unique species of birds on the Fitzroy Island, such as sulphur-crested cockatoos, ospreys, pied imperial- pigeons, emerald doves, orange-footed scrub fowls, and buff-breasted paradise kingfishes also attracts a lot of visitors here.
During your visit on the island you will also have the opportunity to spot the beautiful blue Ulysses butterfly and red flying foxes are found only in Far North Queensland area. If you wish to stay longer on the beautiful Fitzroy Island, you can camp overnight at campgrounds available at the island, with all the facilities available on site, including picnic tables, toilets, showers and BBQ.
If you seek a getaway to revive your senses, plan a holiday to Fitzroy Island, with five distinct types of affordable and cozy accommodation facilities to calm and rejuvenate! The island resort has 99 room available. The rooms range from luxurious studios, suites, beach cabins and a new 2 bedroom beach house 'Castaways Cottage'.
The resort also has wheelchair accessible rooms and resort facilities include a swim up pool bar, spa, movie theatre, games room, in room massage, tours desk, onsite bars and restaurant and a general store and dive centre.
A tropical climate is experienced all year long with the average temperature around 27 degrees. There is no usual summer or winters here but rather a 'wet' or 'dry' season. To avoid the heaviest rainfall the best time to visit is from April through to November.
Fitzroy Island in Pictures