Known for its woodlands, eucalypt forest and rocky headlands,
Hinchinbrook Island
is located 8 kilometres from Cardwell and has national park status. The island is home to a variety of bird species, dugongs, green turtles and in some areas crocodiles.
About Hinchinbrook Island
The island's mountainous landscape blanketed in eucalypt forest and mangrove lined channels is quite the contrast to what would be expected from a tropical island in the Great Barrier Reef.
Hinchinbrook Island is located in Far North Queensland off the coast of Cardwell. The island contains an abundance of flora and fauna, picture perfect sandy beaches, dense mangroves and eucalypt forest making for a diverse topography set in amongst the Great Barrier Reef.
For total privacy and seclusion the best swimming beaches can be found at North Shephard, Macushla and South Shephard. It is common for dolphins and turtles and dugongs to be found in these waters particularly in the southern end as they feed on the marine grasses in the area. Marine stingers and crocodiles are also found in some of these bays so please take care and read the signs and notices before entering the waters surrounding the island.
The island is Australia's largest island national park and there are many walking trails through the dense rainforest that showcase the different species of flora and fauna. The grade of these walks range from easy scenic walks to difficult overnight hikes that take you through different landscapes including the rainforest, forest and mangroves.
The most well known trail is the Thorborne Trail which is a 32km trek. This walk is recommended for experienced bushwalkers as it is graded difficult. Queensland National Parks and wildlife recommend you allow several days to complete this trail walk.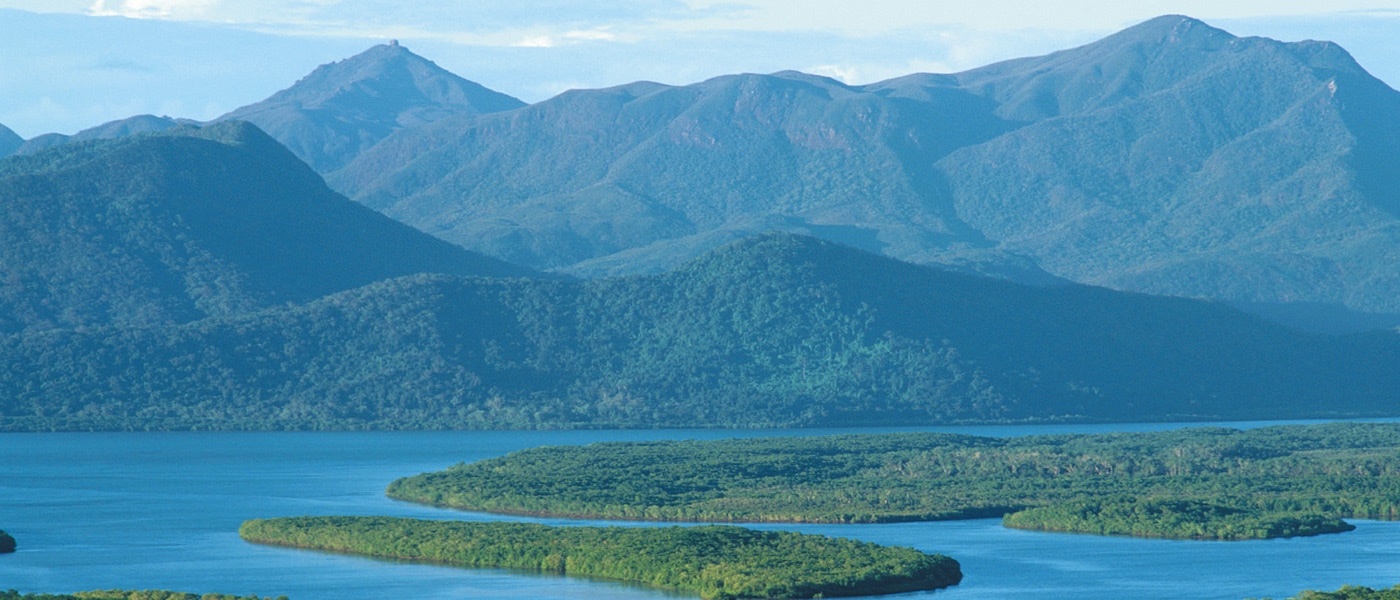 To experience Hinchinbrook Island from the sea, kayaking, fishing charters, houseboats and charter vessels are available.
Unfortunately, the Hinchinbrook Wilderness Lodge is no longer operating due to damage from cyclones and a fire. The island does have several different campsite available to give a truly unique, wilderness experience. Camping permits are required and can be purchased through Queensland Parks and Wildlife service.
Facilities are quite basic with picnic tables and toilet facilities. Some campsites do not have access to fresh water so it is strongly recommended that you bring your own water, food, first aid kits, rubbish bags and a satellite phone.
Alternatively, you can find suitable accommodation on the mainland in Cardwell and Lucinda.
You can reach Hinchinbrook Island by private boat or commercial ferry from Cardwell or Lucinda with many companies offering a transfer service to transport visitors to either end of the Thorborne Trail. These services are dependent on weather and tidal conditions throughout the year.
Hinchinbrook Island in Pictures