Lizard Island
Queensland's most exclusive high-end luxury resort offering complete seclusion and privacy.
In terms of exclusivity, few Great Barrier Reef destinations can compare with the beautiful
Lizard Island
off the northern Queensland coast. Relax in style with access to 24 private beaches and the coral reef at your doorstep. Lizard Island prides itself on providing visitors with tailor made holiday experiences, exceptional customer service and unforgettable scenery making it a world class destination.
All of Lizard Island's beauty and luxury comes at a considerable price at one of Australia's most luxurious resorts but it's selling point is it's exclusivity, privacy, luxury and unique location in the Great Barrier Reef.If you can't stretch the budget then a number of campsites are available on the island as an alternative.
Lizard Island is known for its rugged and rocky landscape where seclusion, luxury and isolation play a key role it its appeal. Visitor numbers are greatly restricted and with no day trips available this island never experiences overcrowding.
The island is covered in grassland with much of the island a protected national park. Take a stroll and you will no doubt encounter some of the lizards that the island was named after. The real highlight of this island is the 24 remarkable and secluded beaches that are waiting to be discovered. Due to limitations on visitor numbers it is entirely possible that you could have the beach to yourself, which is quite a rare and memorable experience.
The snorkelling off the beach is stunning with a large variety of fish species calling the island home. The fringing reef surrounding Lizard Island is healthy, colourful and vibrant and it is not uncommon to see green sea turtles, dolphins and 'Nemo' swimming nearby.
For divers, regular dive boats head out from the resort to some of the local surrounding dive sites. Visibility in these closer beach sites is reasonable but they are more suited to snorkelers. The island is just a few minutes from the world famous 'Cod Hole' dive site which makes this island an attractive destination for divers.
Several other activities are available to keep you occupied including: paddle boarding, sea kayaking, nature walks, day spas and glass bottom boat tours. Everything on the island is within easy walking distance and the hike to Cook's Lookout comes highly recommended.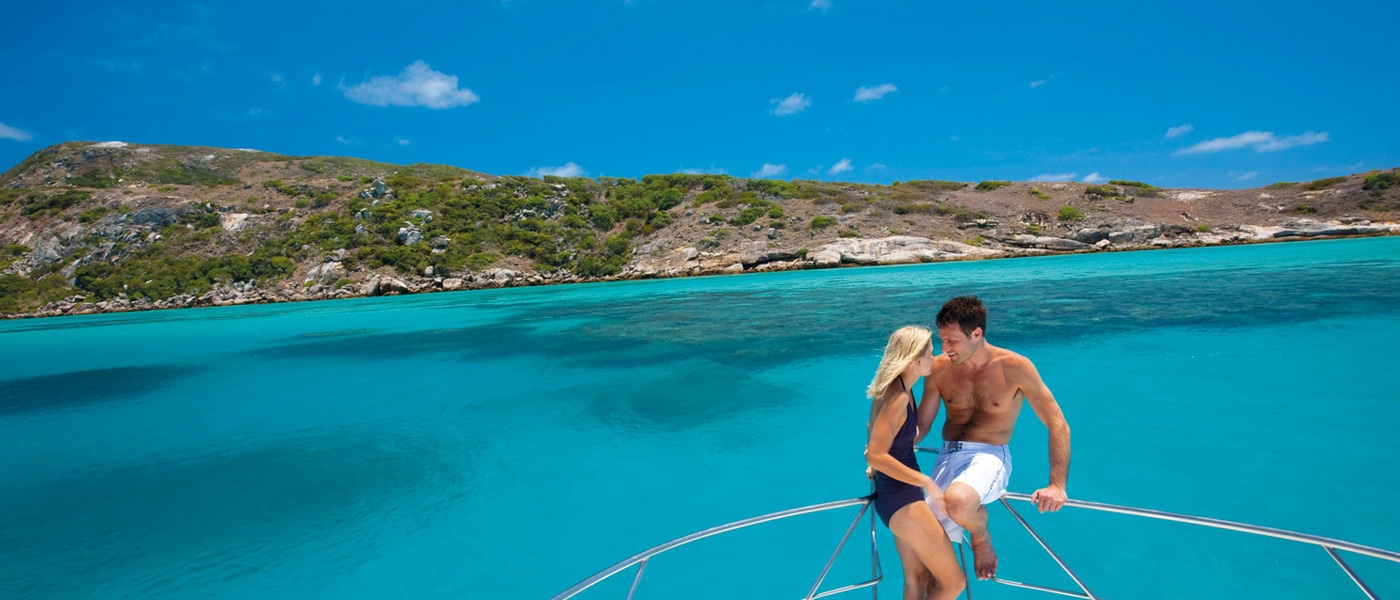 The accommodation options on the island are on either ends of the extreme. The Lizard Island Resort is a five star luxury resort in the northern end of the island. A stay at this resort is a perfect experience for those who crave a relaxed and uncrowded holiday that offers complete privacy in luxurious accommodation. The 40 rooms at the resort have uninterrupted views of the Coral Sea and various secluded beaches. Ocean views villas set high above Sunset Bay have private access to beaches and their own plunge pool or you could opt for a Garden view room with access to Anchor Bay. Whichever you room that you stay in will provide you with the perfect opportunity to relax and unwind and be pampered.
If you are unable to mortgage your home to stay at the resort, don't worry, there is a cheaper alternative available for you. There are five camp sites available on this exclusive island located at Watsons Bay so that everyone can enjoy the charms of this island. The campsites are located near the day use area and network of walking tracks around the island.
To enjoy this completely secluded and isolated campsite you will need to be completely self sufficient with your own food, water, shelter and first-aid equipment. There are no shops to purchase supplies and the campsites have the bare minimum facilities with composting toilets, picnic tables and an open flame gas BBQ.
Access to the island is by a privately chartered flight from Cairns that takes about an hour. The flight to the island is truly spectacular with breathtaking scenery over the reef before you arrive. From here you will transported to the resort. If you have spent all your money on the scenic flight to get here and are off to the campsite at Watsons Bay then you will have a 1.2km walk to the campsite with all your equipment.
Lizard Island is one of the most unique islands in the Great Barrier Reef that offers complete seclusion and privacy in five star luxury. The high end resort boats pristine beaches and excellent snorkelling locations that are available offshore. If you are cash strapped then don't be deterred. It is still possible to enjoy this island by having a memorable camping experience.
Lizard Island in Pictures