South Molle Island
A beautiful 'no frills' tropical island recovering from cyclone damage and is due to reopen soon.
A perfect island choice for those who are looking for a minimalist camping experience,
South Molle Island
,offers peace and quiet along with the best nature has to offer. Recently ravaged by cyclones, the campgrounds are set to reopen to the public soon and new owners of the closed resort are discussing future plans for redevelopment.
The largest of the Molle Island group, South Molle Island has been a favourite destination for visitors in the Whitsundays because of it low key, budget friendly accommodation in the heart of the reef. The island offers visitors a very unique opportunity to camp in the Great Barrier Reef on a remote island amongst wildlife in a beautiful setting.
South Molle Island is conveniently located 30 minutes from Airlie Beach via private boat or water taxi. The island is known for its hilly inlets, pockets of rainforest, secluded beaches and fringing reefs. The island boasts 14 kilometres of walking trails and is one of the a few islands within the Whitsundays that you can go mountain biking.
The trails are graded as easy so you definitely do not need to be an experienced bush walker or mountain bike rider to have a go and get out and explore the island. A popular walking trail that comes recommended is the walk to Mount Jeffreys that will take you approximately 2 hours from Sandy Bay, the island's campsite.
Along your walk to Mount Jeffreys you can expect to see many of the resident birdlife including lorikeets and bush curlews. You will also get an impressive view from the vantage point of the surrounding islands within the Molle Group. The island's close proximity to its other islands means that you can walk to Mid Molle Island via a sandbar at low tide. This walk makes South Molle a unique island within the Whitsundays as you cannot walk to any other islands here.
Decent snorkelling is available off the beach from Sandy Bay in the south and Paddle Bay in the north of the island. Swimming and water sports in the sheltered and secluded bays are also feasible but you would need to bring your own equipment as there are no places to hire on the island. The Whitsunday Island is also within reach so a day trip would be a viable option if you have your own boat.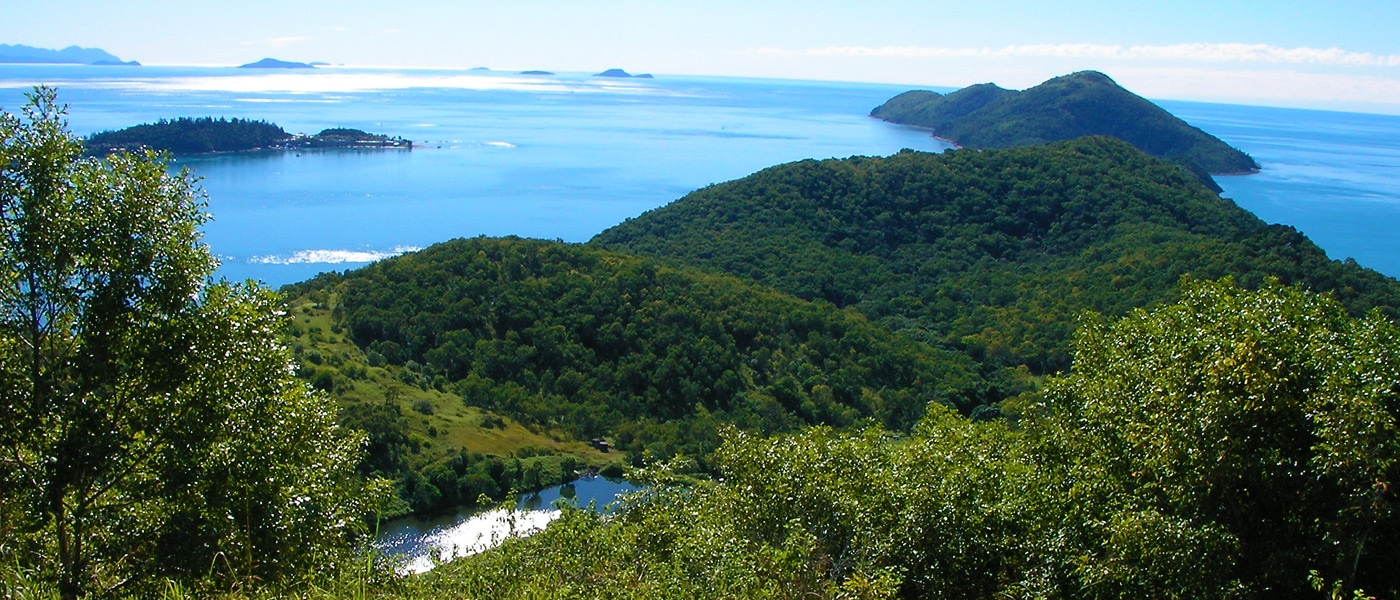 The island resort is currently closed but was purchased in late 2016 by a Chinese Investment Group that intend to redevelop the resort and its facilities. No timeline has been given as yet but many are hopeful that in years to come the resort will be able to welcome guests back again to share in this islands charms.
If you don't mind 'roughing it' then basic camping facilities are available on this island. The campsites are located at Sandy Bay and Paddle Bay adjacent to the beach. The sites are well connected to walking tracks that take you to other parts of the island and are managed by the Queensland National Parks Department. Permits are strictly monitored to keep visitor numbers low. It is entirely possibly that you could have the whole island to yourself giving you that remote castaway experience.
Due to the isolation it is very important you have adequate food, water and medicines. Generators and open fires are not permitted and campers must take all their rubbish with them on departure.
To reach this hidden gem in the Whitsundays you will need to either have a private boat or take a 30 minute water taxi ride from Airlie Beach. For a truly unique experience camping on a secluded island within the Great Barrier Reef you are spoilt for choice but South Molle Island stands out from the pack. Watch this space in coming years for potential resort development.
South Molle Island in Pictures