When you see a picture of the Whitsundays, the image that comes to mind is of the spectacular Whitehaven Beach, found on the stunning
Whitsunday Island
. Its natural and undisturbed beauty makes the island a popular day trip destination attracting millions of visitors every year from all over the world.
Voted as Australia's most beautiful beach in 2016 and one of the top 20 in the world, Whitehaven Beach is a place that you simply must visit at least once in your life. The silica white sands of Whitehaven Beach stretch for 7 kilometres and despite its popularity, it is still possible to find a quiet moment to yourself to enjoy this tropical paradise.
Whitsunday Island is the largest island of the region featuring a myriad of small coves, lagoons and inlets that are just waiting to be explored. Images of Whitehaven beach are not photoshopped in any way. The crystal clear blue calm waters and bright white silica sands are exactly what greet you when you arrive at the island.
The "white silica sand" is a major natural selling point of the island for many as the sand is of high purity; the grains are extremely fine, and as a result it's incredibly soft to touch and doesn't get too hot underfoot. Coupled with the bleaching effects of the sun, the sand is pure white in colour and is among one of the most photographed beaches in the world.
The island can be accessed by private boat with many secluded and safe inlets available for mooring overnight. Don't worry if you do not have access to your own boat though, because you can still visit this beautiful island with many tours and cruise operators who delight in showcasing the natural attractions of this island.
The second reason why Whitsunday Island remains the most popular island in the region is because of the gorgeous island walks and lookout points that offer stunning panoramas of the surrounding islands and Whitehaven Beach. The most well known is the Hill Inlet walk accessible from Tongue Point.
Many people will anchor here in sheltered waters and take a small boat or kayak to shore. From here you can begin the serene nature walk up the Hill Inlet. The easy 20 minute walk will lead you to the best vantage point in the Whitsundays. Up here you can look back on the beautiful Whitehaven Beach and see the shifting sands and beautiful turquoise coloured waters on low tide.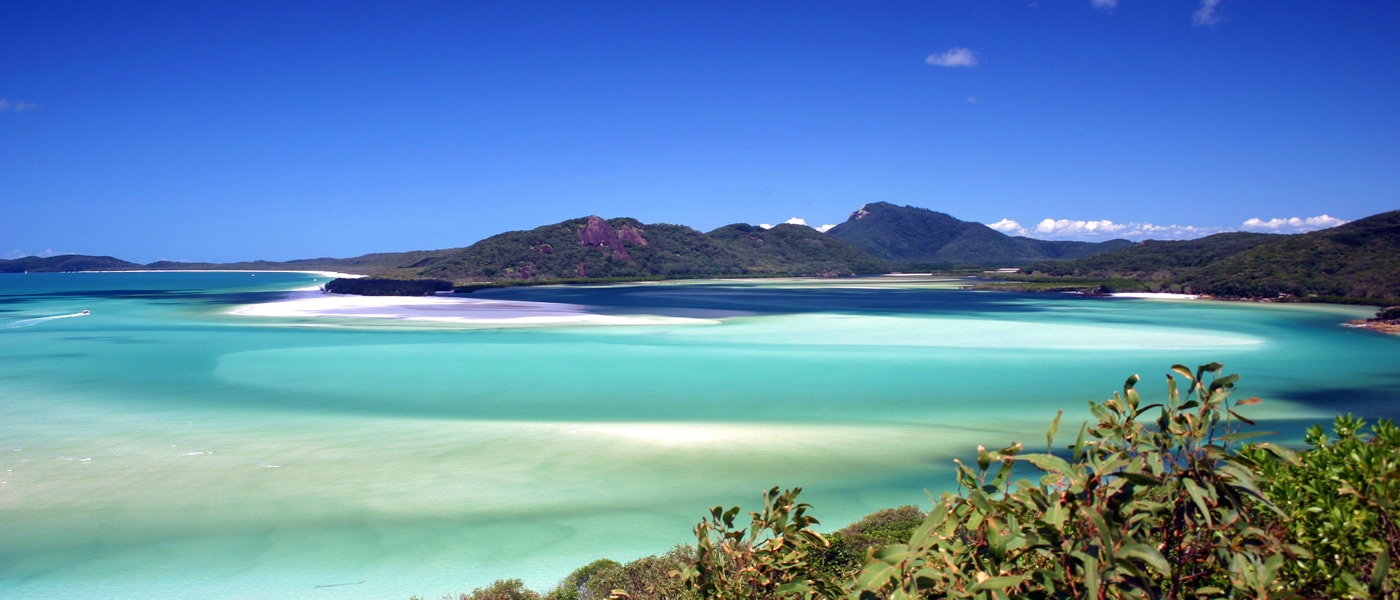 It is quite common to also see marine life from here such as turtles, sting rays and large schools of fish. The views here are truly mesmerising. Regardless of whether you are with a tour or travelling on your own there will be plenty of time to get your 'selfies' and make your relatives at home completely jealous of your adventures.
Thanks to government intervention, the island has been protected and untouched with zero development permitted ensuring that this natural beauty is kept pristine and healthy for many generations to come. Basic facilities are limited to public toilets and picnic tables. Visitors are required to be self-sufficient and remove all rubbish from the island when you leave.
If you wish to stay here longer no one would blame you. Camping sites are available on the southern end of Whitehaven Beach. Permits are required and should be obtained through the Queensland National Parks website. Campers must ensure they bring adequate food and water to sustain them for the duration of their visit. Many overnight sailing trips stop here to allow you more time to explore the island.
Getting to Whitsunday Island from Airlie Beach can take up to 2 hours with various day tours that stop at this magnificent treasure of the Great Barrier Reef. Other options include high speed rafting adventures that offer a more exciting way ride to the island than ferry. These tours also allow you to spend several hours here on Whitehaven Beach to relax and enjoy this natural beauty. It also possible to experience Whitehaven Beach from air in a helicopter or in a seaplane that delivers passengers to the island for an exclusive island experience in the Whitsunday islands.
Whitsunday Island in Pictures
Looking to book day tours to Whitehaven Beach?