An island nestled in the Great Barrier Reef,
Orpheus Island
features sheltered and secluded bays and fringing coral reefs that are perfect for snorkelers and visitors who are looking for a quiet getaway.
Orpheus Island is small island, only 12 kilometres long, located off the coast of Townsville and welcomes up to 28 guests at any time which makes for an exclusive and private island holiday in the Great Barrier Reef in Tropical North Queensland.
Orpheus Island is a secluded island located within the Palm Islands Group approximately 110 kilometres north of Townsville. This island is perfect for visitors looking for a luxurious tropical island escape. The five star Orpheus Island Lodge is based here and has 28 staff to cater for its 28 guests.
Whilst the lodgings here are luxurious, it is not showy or pretentious as the focus is on the beautiful natural settings you find yourself in as opposed to a resort with all the facilities and amenities. The accommodations are nestled on the western side of the island at Hazard Bay and are just footsteps away from the waters edge. The lodge features a main pavilion with bar and restaurant, infinity pool and a day spa.
The lodge aims for a minimalist style because of the focus on sustainability. You will find that meals are prepared and sourced from local products, solar energy and water saving initiatives are used and there is a neat veggie patch and chickens on the island.
The minimalist style is reflected in the rooms which are contemporary and feature all the mod cons that you would expect in a luxury resort such as King beds, Coffee Machines, Ipod docking station, Air Conditioning, Wifi and private terraces with garden or ocean views.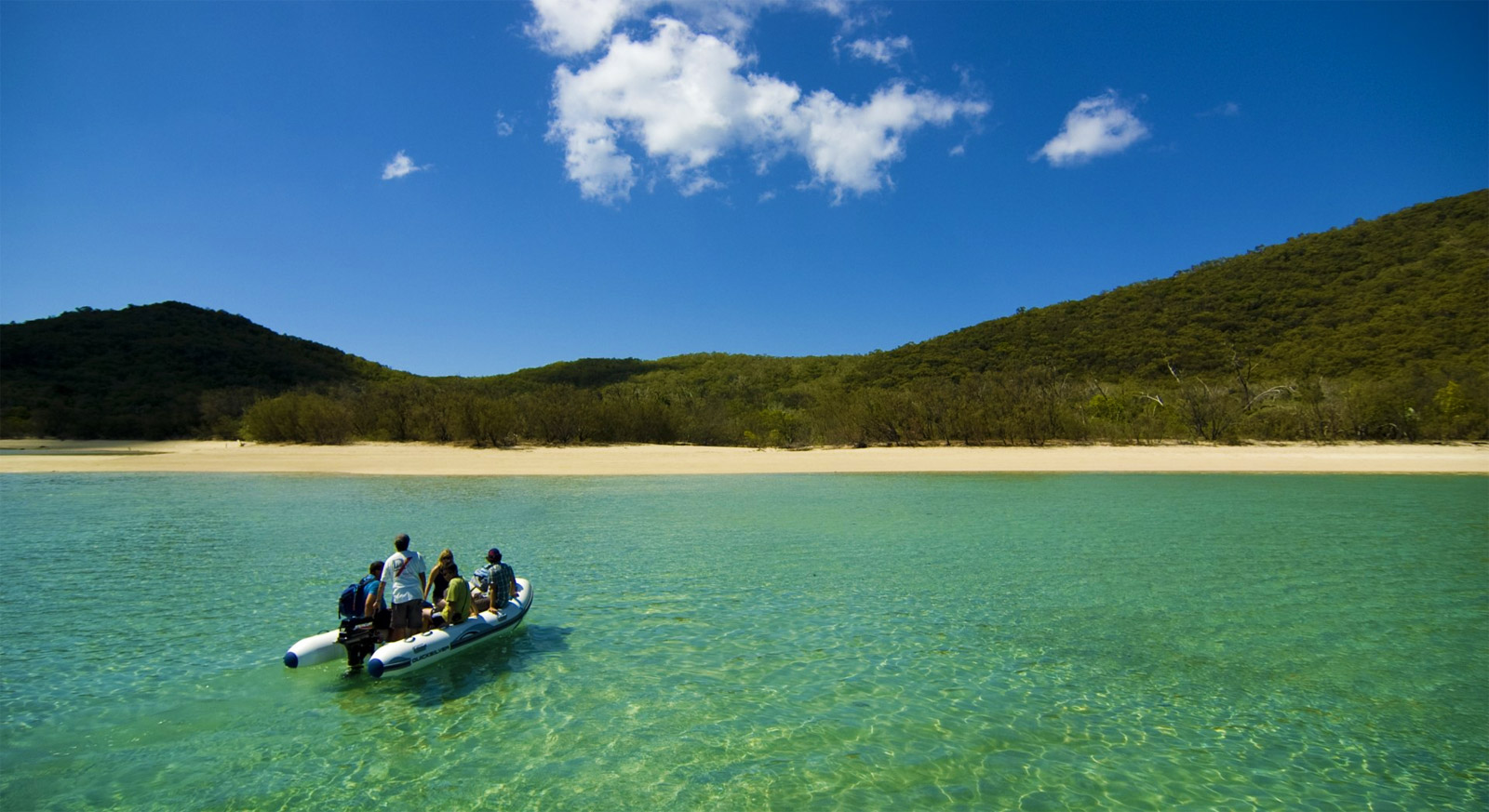 Packages are all inclusive so you can put your wallet away and enjoy all meals and complimentary Australian Beer, Wine or soft drink. To occupy your time you can take advantage of the fringing reefs and head to the water sports centre for paddle boards, sea kayaks, snorkel and fishing equipment. Fishing and Diving charters can also be organised.
Another popular activity is expeditions on the Dinghies to private bays and beaches to snorkel the reef and see the Giant Clam Nursery off Pioneer Bay. A gourmet hamper can be arranged as you enjoy a private beach all to yourselves. Something that is unlikely to happen in any other part of the world.
There are other unique experiences such as visiting the Orpheus Island Research Station for an educational tour of the research facilities and meet with the Marine Scientists that work here. If you are celebrating a special occasion you can also enjoy a private six course dinner on the pier with a customised menu of your choosing. If you wish to venture further afield, there are helicopter and boat charters to Hinchinbrook Island to seek the dramatic headlands, waterfalls and mangroves and rainforest.
To reach the island you will need to take a helicopter from Townsville or Cairns with Nautilus Aviation. From Townsville it is only a 30 minute journey or 1.5 from Cairns. The price of the accommodation and transfers may be considered on the high end but you will be guaranteed a unique, luxurious and private holiday.
If you cannot afford to splurge, you can still the visit the island and camp at selected campsites run by Queensland National Parks. Picnic and day use areas with BBQ's are available but part of the island's charm is the quiet island escape that remains a secret thus far.
Orpheus Island in Pictures