The year round warm tropical climate, turquoise blue waters, sandy and uncrowded beaches and coral reefs lure visitors from all corners of the world to Great Keppel Island in Queensland. The laid back atmosphere of the island is perfect for people looking to relax and unwind on secluded beaches and amongst nature. Doing nothing is encouraged here but if you do want to be active there are many activities on offer. Here are the top 10 things to do on Great Keppel Island.
1. Glass Bottom Boat Coral Viewing Tour
Freedom Fast Cats offers a glass bottom boat tour for coral viewing around the Great Keppel Islands.The glass bottom boat tour is perfect for anyone wanting to see the reef up close and learn more about this diverse ecosystem. The remainder of the day is spent exploring Great Keppel Island. For guests already staying on the island, the tour is 1 hour in duration. This is your opportunity to ask the experts and locals any questions that you have ever wanted to know about the Great Barrier Reef and its marine life. They love nothing more than sharing this part of the world with you.
Video supplied by Tourism Queensland
2. Snorkelling from the beach
Great Keppel Island is in close proximity to fringing coral reefs that can be accessed from the beach. The best snorkel sites are from Shelving Beach and Monkey Beach. Strap on a mask and snorkel and you will be surprised by the pristine coral that welcomes, feeds and protects schools of tropical fish, starfish and turtles bobbing their heads up to the surface. Turtles are very common in the Southern Great Barrier Reef and visitors are almost guaranteed to see them in the waters surrounding Great Keppel Island. The ability to snorkel from the beach is comforting for many who may feel uncomfortable swimming and snorkelling in the deep ocean. Visitors can control the depth they feel most comfortable with and swim or snorkel at their own pace.
Snorkelling equipment can be hired from – Great Keppel Island Adventures – Keppel Water Sport Centre – Check with your accommodation at reception for complimentary hire
3. Island bush walks
Ninety percent of the island is bushland with many walking tracks showcasing Australia's wildlife, bird life and flora and fauna. Some of these walking tracks lead to secluded beaches, private coves and pockets of fringing coral reefs. There are a variety of walks that suits different fitness levels from easy to challenging. If you are looking for an easy stroll than the walk to Monkey Bay is a nice and easy 30 minute stroll. Walkers can then cool off in the water swimming and snorkelling or just enjoying the serenity and peace and quiet on a secluded beach.
For those who want to keep fit whilst on holidays, the 3 hour return walk to the lighthouse on Bald Rock Point is a challenging but rewarding walk.
4. Jetski Safari
Keppel Water Sports and Great Keppel Island Adventures now offer guided Jet Ski tours around the island. These tours are a quick and fun way to get to know the area surrounding Great Keppel Island. Visit secluded beaches and swim in exclusive coral reefs or just enjoy the wild ride. This activity is suitable for the young and the old to circumnavigate the island. Lap up the scenery as you speed past crystal clear waters and sandy secluded beaches.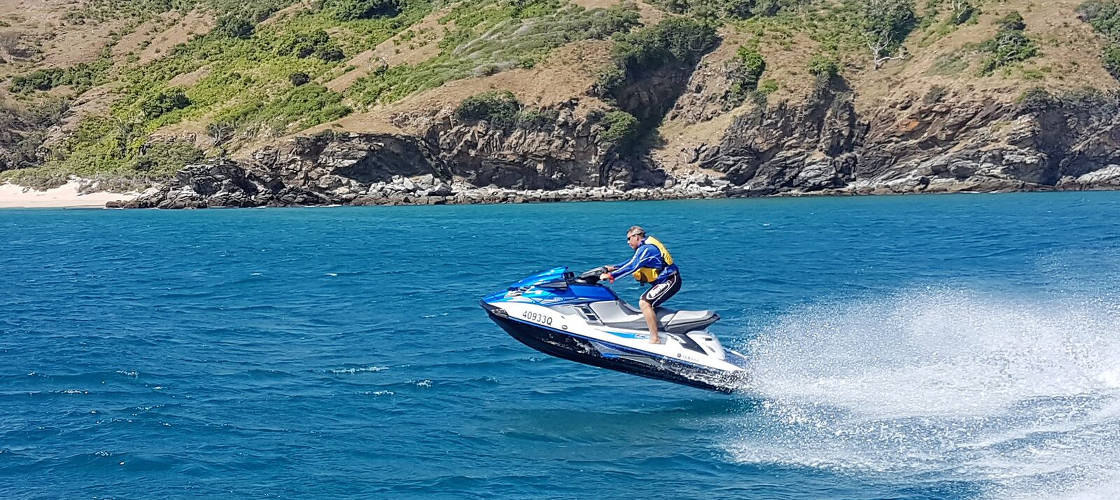 5. Watch the sunset
Visitors must take time to enjoy at least one beach sunset on Great Keppel Island. Fisherman's Beach and Putney Beach are the beaches to be at as you sit back with a sundowner and enjoy the sunset. For something a little different enjoy a sunset sailing cruise. Keppel Watersports run sunset cruises to cater to a variety of guests staying in different parts of the island.
6. Great Keppel Island Water sports
If you want to have fun in the sun then head to Keppel Water Sports for some water sports. Operating currently on weekends and school holidays, visitors can take part in water skiing, wake boarding, tubing. No experience is necessary as they will show you how to get started and have you up on your feet in no time. Tubing is also a very fun family activity that children and adults can enjoy out on the water.
If motorised water sports are not your preference then snorkelling equipment and kayaks can be rented out for a more leisurely water activity at your own pace. Head out to Monkey or Shelving Beach for a spot of snorkelling and beachcombing. Keep an eye out for sea Turtles, Dolphins and Humpback Whales (June-Oct).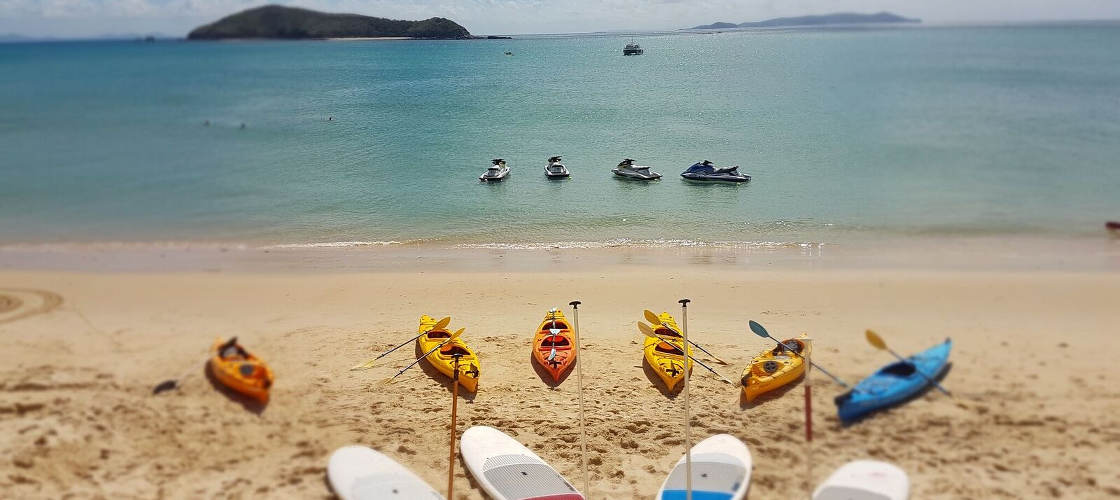 7. Fishing Tours
The outdoor lovers and keen fishers in the family will enjoy a fishing tour run by Great Keppel Island Adventures. Certain areas of the Great Barrier Reef are classified as protected zones and additional protection apply to endangered species. The staff at Great Keppel Island adventures are very familiar with the area and the best places to get a catch. All equipment is supplied.
8. Guided Kayaking Tours
Another great activity to take part in are guided kayaking tours around Monkey Beach that include a morning tea and a historical walk to Aboriginal cultural site. Kayaking tours are suitable for all ages and fitness levels and no experience is necessary. Monkey Beach surrounds a healthy coral reef that attracts a variety of tropical fish and marine life. The bay is also sheltered from winds and thus makes it an easy paddle experience.
9. Stand up Paddle Boarding
Stand up paddle boarding is a great holiday activity and also a great workout. These stable, sturdy long boards are great to get everyone out on the water. Much easier than surfing, the boards are wider making it easier for people to find their balance and paddle through the water. Most people who try stand up paddle boarding end up falling in love with it and want to buy one for themselves to use at their local beach or creek.
10. Motorise Canoes
Great Keppel Island has many secluded beaches and hidden coves, however, not all of them are accessible by foot. Some can only be accessed by boat. Visitors can join a motorised canoe trip to snorkelling spots further away from the islands shore and spend some time lapping up the opportunity to have an entire private beach to themselves for a day. If you wish to snorkel then be sure to hire the gear from the water sports office or enquire at the reception desk of your accommodation.
What is your favourite thing to do on Great Keppel Island? Let us know in the comments below.