With the Great Barrier Reef spanning over 2300 km of the Queensland's coast it can be hard to know or decide which part of the reef is the best place to visit based on your experience level. We have done the research for you and selected the most visited and well loved dive sites in the Great Barrier Reef.
Agincourt reef is located approximately 60 kilometres off the coast of Port Douglas in Far North Queensland. The Agincourt consists of a collection of ribbon reefs that are unique and distinct from each other and have been rated by divers around the world as the best in the Great Barrier Reef. The Agincourt reefs have been grouped into four sites and generally each tour operator has a permit for a particular section of the reef. This is to ensure that the reef is protected and remains one of the great natural wonders of the world for future generations to visit and explore.
The reef runs parallel to the Australian continental shelf and its selling point is high underwater visibility and an abundance of coral bommies and marine life. The diving depths range from five to 30 metres so it is suitable for beginners and intermediate divers. Dive operators hold permits to a variety of sites with the Agincourt group so that you can experience multiple dives in a day on a cruise or liveaboard boats. It would take a lifetime to visit all the dive sites this reef has to offer.
Among the most well known dive sites are the Flynn Reef, Milln Reef, Thetford Reef within the Agincourt reef group. These dives offer wall dives and swim throughs, coral gardens and underwater visibility up to 20 metres. Due to the vast number of dive sites available you will be able to find a site that is best suited to your diving abilities.
For introductory dives we recommend taking a tour to the outer reef platform where you will have personal instruction and guidance on your first dive exploring the reef. Quicksilver Cruises operate a day cruise to the reef platform catering to snorkelers and divers. The reef platform is also recommended for non-swimmers who can experience the reef through the underwater observatory and glass bottom boat tours without even getting their toes wet.
For certified divers with several dives under their belt, the remote locations on the outer reef's edge will suit you with more time and space to explore this underwater playground. Silverswift, Posiedon and Calypso are a some of the other operators that visit this area.
In 1911, the SS Yongala, a luxury passenger vessel was sailing through Australian waters when disaster struck and a cyclone came through causing the vessel to sink. It wasn't until 1958 when divers discovered the wreck site 48 nautical miles off the coast of Townsville.
The wreck site is protected under the Historic Shipwreck Act 1976. The ship remains in tact 30 metres below the surface and access is strictly through permit only. Local dive boat operators have permission to take experienced divers out to explore this site.
SS Yongala is centrally located in the Great Barrier Reef Marine Park and has become completely covered in coral gardens attracting colourful tropical fish making it a favourite among divers all over the world. The length of the wreck is 110 metres long with depth ranging from 15 metres to 30 metres. Underwater visibility can be tricky at times due to its sandy bottom and strong currents. The list of marine life you will see is endless including Giant Trevally, Turtles, Sea Snakes, Manta Rays, Reefs Sharks and a diverse range of tropical fish.
The gateway to reach this ship wreck is via Townsville or Magnetic Island where dive boats will provide you with all the equipment needed to experience this world class dive site. The cruise out to the reef is approximately 3 hours but the journey is worth it as you are rewarded with a dive that you will never forget. The variety of marine life that co exist within this artificial reef is truly extraordinary. This dive comes highly recommended and is the reason why it has made it to our top 5 dive sites in the Great Barrier Reef.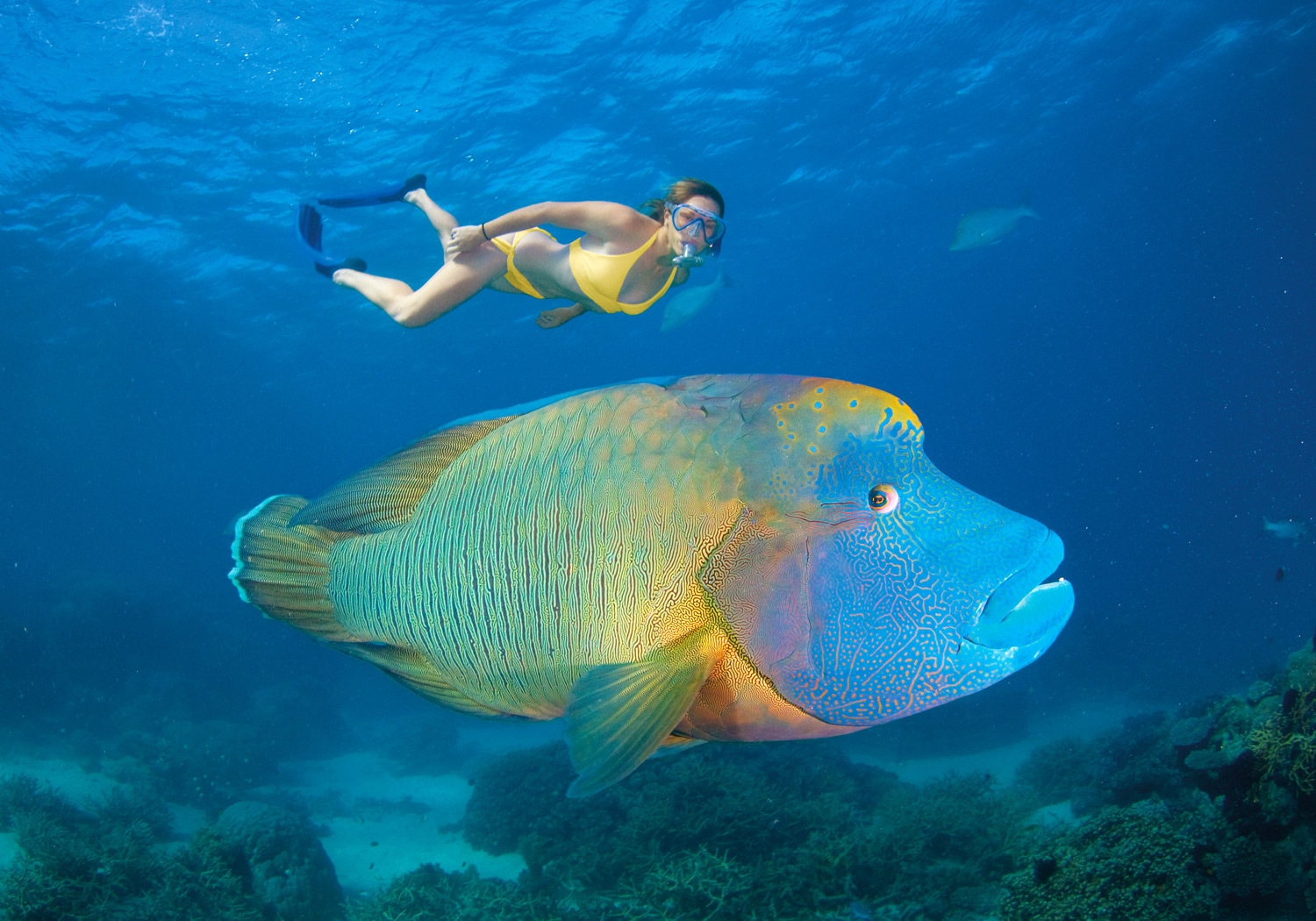 This idyllic coral cay island is the most southerly island of the Great Barrier Reef Marine Park. Located within the protected Green Zone, the reef is protected so you will experience a diverse range of marine life in large quantities.
The only way to access Lady Elliot Island is through chartered scenic flights that land directly on the island twice daily. Once on the island, divers can be out on the reef via boat in 15 minutes with up to 20 different dive sites on offer. The low numbers mean that dive sites are uncrowded and you will receive personal attention by dive instructors when you take part in a dive. The staff at the dive centre aim to give you enough time to experience two dives per day.
PADI has recently included Lady Elliot Island in its top 5 dives in the world due to its year round visibility of 20 metres and diverse marine life that you will interact with. On your dive you will experience manta rays, turtles and numerous tropical fish in pristine and crystal blue waters. If you visit during May to October in the whale watch season you may also be lucky enough to have a close encounter with Humpback Whales. Highlights of Lady Elliot dive sites are the Blowhole, Tubes, Hiros Cave, Coral Gardens and Anchor Bommie. The protected waters of Lady Elliot Island and the restricted number of visitors that can visit make it a world class dive spot that you cannot miss out on experiencing when you visit the Great Barrier Reef. If you are short on time but want a unique, relaxing experience with unspoilt diving then Lady Elliot is a great option for you.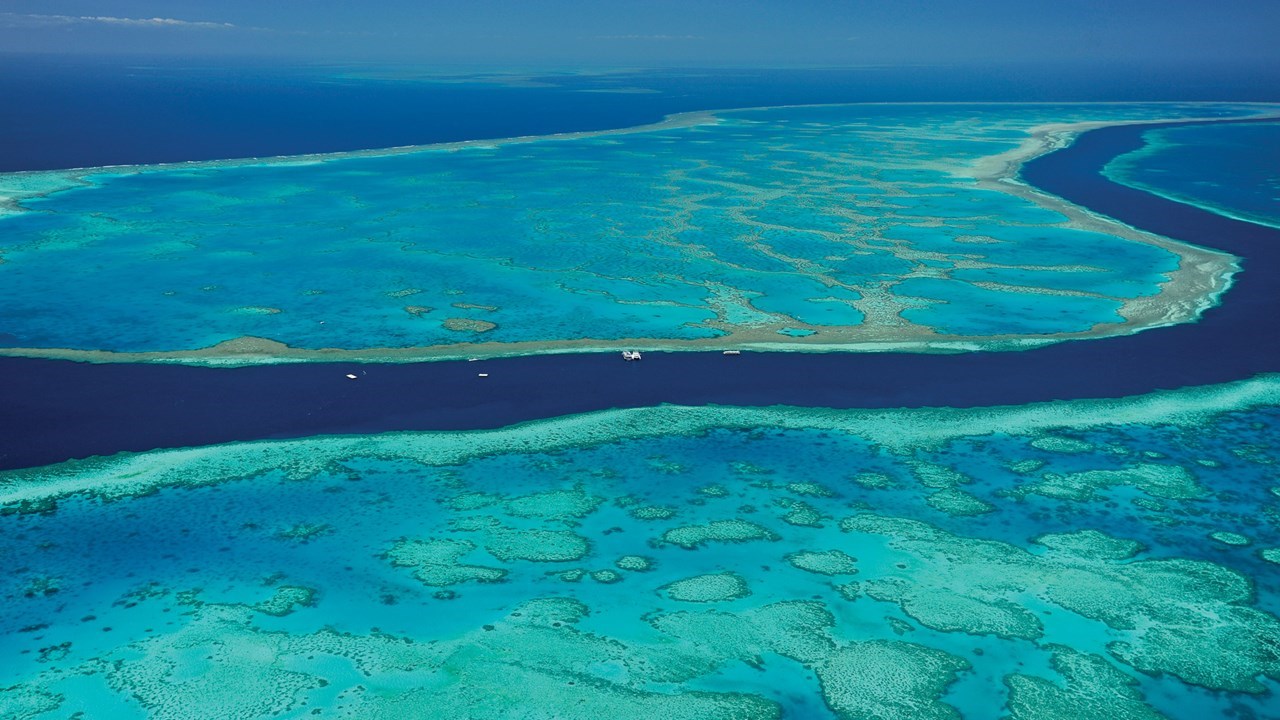 Hardy Reef is home to the Reef World pontoon in the Great Barrier Reef near the Whitsunday Islands. The reef is an excellent diving location for beginners and more experienced divers who want to explore the world that exists under the sea. The depth ranges from 5 to 20 metres.
At Hardy Reef, you will see a range of tropical fish and marine life including: Turtles, Reef Sharks and Barracuda, Trevally, Coral Trout. You will also find giant Gropers that will greet you at the back of the boat waiting for a free feed. There is plentiful, colourful and surprisingly healthy collection of hard and soft corals waiting to be explored.
The outer reef pontoon can be accessed by a number of tour operators that collect passengers from Airlie Beach and nearby islands for the day. The cruise out to the reef takes approximately 2 hours and the platform also offers, snorkelling, semi-submarine tours and underwater viewing chambers if you just can't get enough of the reef.
At times Hardy Reef can become busy but it is a top dive spot because of the diversity of fish and marine life and health of the reef and easy accessibility for guests of the Whitsundays. Lastly, this dive spot is suitable for those who are travelling in groups or families where there are different levels of snorkelling and diving abilities because there is an activity suitable for everyone.
Osprey Reef is located 350km from Cairns in the outer Great Barrier Reef. Due to its remote location, it is a reef that can only be experienced through a liveaboard dive vessel and not day cruises. There are many liveaboard experiences available but Osprey Reef is rated highly among experienced divers all over the world.
Osprey Reef consists of a lagoon area that is 30 metres deep and full of pristine and colourful soft coral. There is a high probability that you will see manta rays, Green and Loggerhead Turtles and obviously an amazing variety of tropical fish. One of the highlights of dives at this location is the population of sharks that will provide you with one of the most memorable dive experiences you will ever have.
Osprey Reef in our top five because its remote location adds to the majestic experience of diving the Great Barrier Reef. It is also ensures that the coral you will see on your dive will be protected and healthy due to the low number of visitors that get to reach this secluded part of the reef.