The once-sleepy but now bustling village of Port Douglas is now an international attraction and has become another viable playground for families, a base for beach carnivals, and a central departure point for tourists looking to head out on the waters into the heart of the Great Barrier Reef itself. Port Douglas also has the added benefit of being extremely close to the popular Low Isles of the reef, which are one of the true "jewels" of the reef in terms of sightseeing and can be experienced not only by yacht or cruise ship, but also by sea plane or helicopter for those in search of a different and slightly more unique vantage point.
Port Douglas is less developed than nearby Cairns (which lies less than 70km to the south) and despite its increased popularity in recent years, it still retains a more laid-back, community-oriented atmosphere that contribute to giving it a village feel different to Cairns. As can be expected from a town with such an open path into the reef, there are a huge range of Great Barrier Reef tours from Port Douglas harbour and offer varying levels of comfort, length and, of course, price that mean those looking to enjoy the Great Barrier Reef from this region are spoiled for choice. Some of the most popular tours of the Great Barrier Reef from Port Douglas include: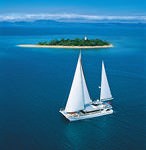 As mentioned above, the Low Isles are a definite hot spot for tours departing from Port Douglas, as they offer the promise of a true tropical paradise within easy reach of the town and are readily accessible for an escape for a full or half day. Docking in the island's lovely lagoon, you'll disembark and immediately be presented with a range of activities and things to do in a location with limited visitor numbers meaning that you'll never be fighting crowds to participate. Take part in glass-bottom boat trips to view marine life, go snorkelling over coral gardens full of turtles and fish, go for a guided walk along the beach with a marine biologist and more.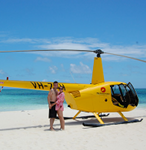 A chance to absorb the amazing Great Barrier Reef surroundings from on high, helicopter flights are a a relatively exclusive way to see the reef as you will be able to gaze down through the crystal-clear azure waters and see the teeming marine life below. Pilots have trained to fly low and will typically take you down at low altitudes to get up-close looks at various points of interest upon request – with different landing points that vary from solitary sand cays to busy reef pontoons full of activity depending on the tour you choose.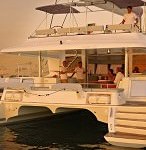 The sunset over the nearby Daintree Rainforest that surrounds Port Douglas provides a great backdrop, and many of the available cruises and tours aim to highlight this by setting out on the water in the late afternoons. Vessels depart from Port Douglas and sail through the Dickinson Inlet out over the coral sea to provide an aspect that showcases the sun's effect on the visuals of both land and sea while creating an atmosphere of relaxation that is different to that experienced with tours to some of the islands of the Great Barrier Reef during the peak of the day.