Perhaps Australia's most internationally-famous tropical playground, Cairns has always been a popular launching point for those looking to visit the Great Barrier Reef on a tour, cruise or similar adventure. Due to a central location along Queensland's coast, Cairns opens up a whole host of options for exploring either the north or southern end of the reef, and being a renowned tourist hotspot means that there are a large number of different tour operators based in Cairns to choose from. Great Barrier Reef Tours from Cairns head to the reef and its many nearby islands daily aboard a variety of marine craft including ferries, luxury cruisers and sailing catamarans, most of which are purpose-built for various methods and forms of reef exploration. Options are available for tours that will let you enjoy the day on a pontoon anchored at a single prime reef location, or be taken to a variety of different reef sites for a comprehensive view of the Great Barrier Reef's major highlights.
The Great Barrier Reef provides a world of natural surprises and natural beauty that is a true escape from anything else to be experienced in everyday life, and a tour takes the hassle out of organising all the best ins and outs of getting to and from some of the prime spots of the reef in the most efficient manner possible. Some of the most popular Great Barrier Reef tours and cruises departing from Cairns include: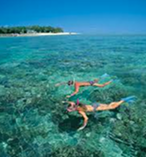 A lovely coral cay in the heart of the Great Barrier Reef, Green Island can be reached with 45 minutes worth of incredibly scenic journey aboard a high-speed catamaran. A Green Island tour will let you experience up to 7 hours on the island, a 6000 year old natural wonderland with an environment that is a unique blend of reef and rainforest landscape. Options are available to enjoy both a glass-bottom boat tour and snorkelling activities.
A large island draped in lush rainforest with a total area of 339 hectares, the majority of Fitzroy Island is protected and managed as a National Park which has helped to preserve its beauty. While much of the island is thus off-limit to visitors, a tour will take you to the Western side of Fitzroy Island where resort, jetty and the best snorkelling areas can be found. Tour options exist for extra inclusions such as transfers, lunch and on-island activities as well.
A low-lying sand cay covered in vegetation and ringed by a superb reef, Michaelmas Cay is also a National Park and a haven for migratory seabirds that populate its shores and trees. There are a wide array of activities on offer at the cay including snorkelling, scuba diving, semi-submersible coral viewing, scientific reef tours, nature walks and a bird sanctuary which can all be participated in as you see fit.
The Great Barrier Reef's outer regions are also some of its most beautiful, and many of the tours from Cairns head towards these more distant areas from the coastline for a feeling of true isolation and escapism. Packages are typically available that range from a single day to several days, with the longer trips offering a great chance to soak up the sun, snorkel with the various fish, scuba dive to greater depths and take part in glass-bottom boat rides or simply enjoy the experience of sailing on wonderful waters aboard a comfortable sailing vessel or catamaran.